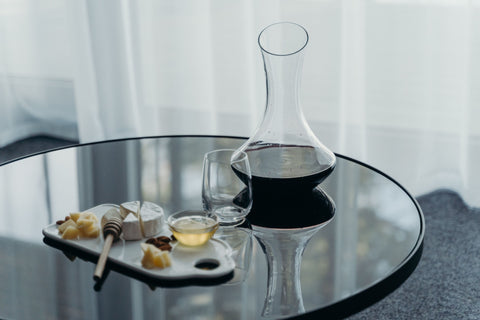 To Decant or not to Decant…
Published at Aug 5, 2021
Whether you've got a glass jug or a crystal decanter, it doesn't matter, they both do a great job of aerating the wine. Without getting too technical, oxidation and evaporation can help the wine to open up, making reds taste fruitier and smoother. Some white wines can also benefit from decanting, particularly if they smell a little reductive (burnt match!) but most whites and rosés are best drunk straight from the bottle (not literally!).

We're often asked how long a wine should be decanted, and a lot depends on the style of that particular wine, but here's a little guide to help…

Full bodied Reds, such as Cabernet Sauvignon, Tannat, Syrah; 1 hour

Medium bodied Reds, such as Merlot, Tempranillo, Cabernet Franc, Grenache; 30 – 60 minutes

Light bodied Reds, such as Gamay or Pinot Noir; 15 – 20 minutes

If you're lucky enough to have some fabulous old wines in your cellar, it's worth noting that they can be quite fragile, so too much exposure to the air can cause a rapid decay after being opened.